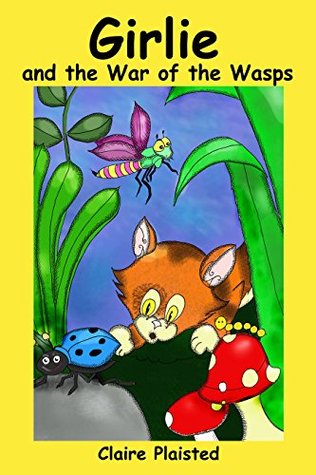 A thoroughly enjoyable book, for children of all ages.
The story is adventurous and interesting, and the illustrations were delightful.
I liked how the 'lessons' in healthy eating, bullying and discrimination were worked into the story without being preachy!
Please consider buying a copy of 'Girlie and the War of the Wasps, it's a wonderful book and 40% of the proceeds go to
Chasing a Cure for Type 1 Diabetes
Amazon

|

Inktera

|

Kobo
Synopsis:
Girlie is a young blue ladybug who sees her best friend kidnapped. Venturing after her, she discovers some naughty wasps who need to learn about healthy eating. Along the way, Girlie meets many different characters, some who are helpful and some who aren't.
The Author:
Claire Plaisted grew up in the small historical town of Sandbach, Cheshire, England with two older siblings and loving parents.
At 19 she moved to the town of Colwyn Bay in North Wales and it was from here that her adventures began with her first holiday abroad on her own at age 21. New Zealand was the destination and this is where she met her husband to be and eventually moved to in 1991.
Married with four children, sadly losing their youngest child. Claire engages her time in bringing up her children along with family history research. Starting a small hobby business in 2010 to format and print Family History Books for people. It was during the formatting of one book Claire opened a word document while waiting on receiving information to finish her latest project. Her first novel was born. Though this Regency Mystery Romance novel is yet un-published Claire learnt a lot about the writing world.
Writing novels of many genre, her writing has now taken over her life during the week. With ten books published as e-books and eight as paperbacks, Claire is getting ready to publish her first Regency novel, book six of GIB and another childrens story.